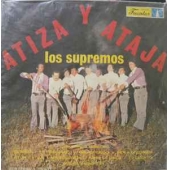 Los Supremos
Atiza Y Ataza
Label: Vampisoul
Genre: World Music
Availability
LP 180gr €18.99

Dispatched within 5-10 working days
The only album released by Los Supremos, "Atiza y ataja" (1971), was the debut recording for Edulfamid

Molina Díaz, aka Piper Pimienta, who would soon make his mark as Fruko's lead singer and later with The Latin Brothers and his own orchestra.

Grounded firmly in the Cuban style of La Sonora Matancera, with a prominent piano and crisp trumpet sound augmented by an additional double sax section, Los Supremos were also influenced by the NYC salsa dura and bugalú of Willie Colón, while managing to include coastal Colombian tropical music like cumbia and currulao, throwing in some improvised descarga jamming as well, making for a varied and hard-edged mix for one of Discos Fuentes' first, and finest, forays into making salsa records.

Presented in facsimile artwork and pressed on 180g vinyl.

Part of Vampisoul's reissue series of classic Fuentes LPs.