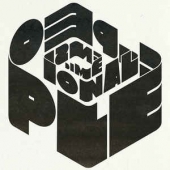 Mouse On Mars
Dimensional People
Label: Thrill Jockey
Genre: Electronica / Ambient / Experimental
Availability
LP €24.99

Dispatched within 5-10 working days
Mouse on Mars' Andi Toma and Jan St. Werner return with their most inventive album to date, Dimensional People. The electronic music pioneers have been critically acclaimed for their playful and inventive sound and production techniques on releases spanning from the early '90s to now. In demand from a surprising array of artists their most recent contributions are featured on the Grammy award-winning album Sleep Well Beast by The National.

The duo are joined on Dimensional People by an impressive list of guests: Justin Vernon (Bon Iver), Aaron and Bryce Dessner (The National), Zach Condon (Beirut), Spank Rock, Swamp Dogg, Eric D. Clarke, Lisa Hannigan, Amanda Blank, Sam Amidon, Ensemble Musikfabrik, and about 20 more musical collaborators. The cast of characters are as unique as they are vast, clearly a rich quarry for the prodigious duo.

Dimensional People is by it's nature a collaborative album. Originally premiering as a spatial composition using object-based mixing technology playing with the possibilities of sonic design (4D Sound) and collective musicianship, the recording expands upon these ideas. Dimensional People expresses itself as a dynamic 50-piece orchestra, telling a story in sound.

Mouse on Mars offers sound as a means to encourage open-minded societies, aided by cutting-edge technology including their own MoMinstruments music software or a spatial mixing technique called object-based mixing, with which a spatial version of the work was created. It is a conceptual puzzle composed around one harmonic spectrum within one rhythmic scheme, mostly in the tempo of 145bpm (inspired by Chicago footwork, so the dance ?or is not entirely absent). Looking ahead, Dimensional People will also be realized through installation, presenting the work as an immersive listening experience, as well as performance.