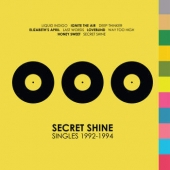 Secret Shine
Singles 1992-1994
Label: Saint Marie
Genre: Rock / Pop
Availability
LP + MP3 COUPON €29.99

Dispatched within 5-10 working days
Other Formats
250 copies on black vinyl. Comes with old photo, flyer, and setlist reproductions in a separate manila envelope.
This is Secret Shine sequenced for maximum power. We get the Greater Than God EP in its entirety, and 25 years later the title sounds more modest than anything else - there's a gift for melody here, a gift for speed and dynamics, that leaves nearly all their contemporaries in the dust. Then there's the two singles, Ephemeral and Loveblind, complete with b-sides. All of it originally released on Sarah Records, the place where testosterone and rock cliches went to die. And if those cliches still exist today, the fault lies in the world for refusing to change.

Let us be direct: these songs are so beautiful; they evoke so much.

You could call them the last great shoegaze band of the shoegaze era. One hears in these songs a final glorious breath right before Britpop arrives and money becomes more important than art.