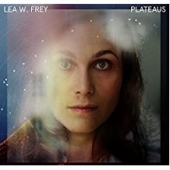 Frey Lea W.
Plateaus
Label: Yellow Bird
Genre: Jazz / Avant Garde
Availability
Other Formats
Third album from Berlin singer Lea W. Frey. Those familiar with the sublime crystal-clear jazz treatment of a diverse selection of pop songs featured on the first two releases 'We Can't Rewind' (2011) and 'How Soon Is Now' ( 2013) might be surprised by the massive physicality of 'Plateaus'.
Frey's clear and rich voice weaves its way through the beautifully fused layers and spheres of the music. Her voice has grown, demanding a larger canvas and Haberl's beats and Kosack's hallucinogenic keyboard vapour provide just that.
Frey's core band, brothers Peter and Bernhard Meyer on guitar and bass (themselves well established as two-thirds of the Melt Trio) were the band on her first two releases. The Notwist drummer Andy Haberl, now a regular, initially contributed his powerful beat to the band's live performances. Brooklyn-underground bred keyboardist Liz Kosack adds her unusual colour palette to the new songs.
United in a stratosphere with Can, Sun Ra, Portishead and Sonic Youth, clouds of guitar merge with one another, minimalist jazz drumming connects with electronic drum machine sounds and the impact of the acoustic images make identifying the source of each a trivial, if gratifying pursuit. The displacement and change of perspective are not confined only to the music, they manifest themselves in the lyrics. When Frey's title track speaks of sharks nibbling at flowers on the plateau, it becomes apparent that nothing is due to stay as it seems. All of the album's component parts merge into a magical universe in which everything becomes sound.