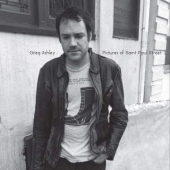 Ashley Greg
Pictures Of Saint Paul Street
Label: Trouble In Mind
Genre: Rock / Pop
Greg Ashley has been a fixture on the underground music scene since the late 90's while strang eardrums as a teenager in Houston in garagepunk band The Strate-Coats. Since then he's proven himself not only as a songwriter, singer and guitar player in bands like The Mirrors & The Gris-Gris, but also as a producer / sound engineer. His career as a solo artist is vast & varied, spanning the gamut between fried & beautiful psychedelia, gorgeous & cathartic symphonic suites & gentle, damaged folk music, beginning with 2003's "Medicine Fuck Dream" & last leaving us with 2014's "Another Generation of Slaves".
His latest, "Pictures of Saint Paul Street" carries forward that album's musical palette (a rootsy amalgam of tortured, Cohen-esque folk tinged with the beer soaked recklessness of a West Texas honky-tonk). The songs on "Pictures of Saint Paul Street" are lush & beautiful autopsies of society's underbelly, with stark and brutally honest ruminations on humanity. Songs like "A Sea of Suckers" & "Pursue The Nightlife" pull no punches, while "Jailbirds & Vagabonds" and "Blues For A Pecan Tree" carouse on a more abstract, human (almost romantic) level. By the time you've hit the album's centerpiece; "Bullshit Society", Ashley's songs move from ballads of hopeless misery to rallying anthems for the dispossessed. The people & artists who move further to the fringe as power and greed overtake our planet, a situation all too familiar to Ashley as he was forced to relocate his long-running Creamery Studio from it's long time home due to the rampant gentrication of the Bay Area.
"Pictures of Saint Paul Street" isn't always an easy listen, but that's the point; the journey to salvation isn't easy or pretty. The protagonist in many of Ashley's songs may be Ashley himself - a true artist willing to admit he's nowhere near perfect, and honest enough to document his sunrises & sunsets.
Coloured vinyl