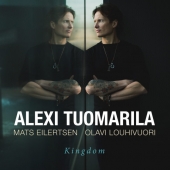 Tuomarila Alexi
Kingdom
Label: Edition Records
Genre: Jazz / Avant Garde
"This is an album that demands your attention and will repay repeated listening. It almost goes without saying that the recorded sound is second to none. The album is sure to raise the profile of this master pianist still further. Highly recommended." UK VIBE ***** (Five Stars)
Described by Jazz Times as '…one of the next big deals on jazz piano…', Alexi Tuomarila, regarded as amongst the finest pianists on the European Jazz scene, releases bold new album.
Described by Jazz Times as '...one of the next big deals on jazz piano…', Alexi Tuomarila is amoungst the finest pianists on the European Jazz scene right now. Known for his work with Polish ECM trumpeter Tomasz Stanko, Tuomarila has quietly grown into a musical force to reckon with. A true sculptor of sound, the pianist and composer has the ability to mould awe-inspiring melodic lines with precision and rhythmic finesse, decorated with a vibrant imagination, energy undercut with melancholy.
Kingdom is Alexi's new trio album with long term comrades Mats Eilertsen and Olavi Louhivuori (following the hugely successful release of Seven Hills in 2013). Two of the most respected musicians in European jazz, Eilertsen and Louhivuori combine wonderfully fluid technical proficiency and world class musicianship: they formidably articulate everything Tuomarila plays; their improvisations are bold and developed with sleekness and poise.
Since the early 2000's Tuomarila has been constantly touring, basing himself in Paris, Brussels as well as, latterly, Helsinki. Now in his early 40s, Tuomarila is firmly rooted back in his Finnish home city. Kingdom symbolises his return to his homeland. He explains: 'I've spent years on the road, touring and recording in many different cities and countries. I've now reached a time in this life that I feel settled and at home in Helsinki. This album represents these feelings. To share this music with Mats and Olavi, two of the best musicians I know, is humbling and rewarding'.

With five compositions penned by Tuomarila, two from Louhivuori, one from Eilertsen and a (timely) re-interpretation of Dylan's classic The Times That Are Changin', Kingdom draws from a range of stylistic influences that develops striking harmonic depth and subtle shading. Kingdom is an album that looks set to return Tuomarila not just to his home country but also to enthrone him, as bandleader and soloist, as a leading figure in the vibrant European scene.