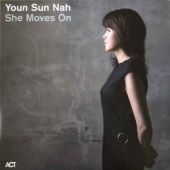 Youn Sun Nah
She Moves On
Label: Act
Genre: Jazz / Avant Garde
Availability
CD Digi / Cardboard €18.49

In Stock
Other Formats
Korean singer Youn Sun Nah is one of the most brilliantly successful artists of our time in jazz and the music related to it. In her native country she is a major star. Her love of chanson took her to France, the country where her meteoric rise and her huge success all across Europe took wing. In "She Moves On" this chameleonic and delightful artist has reinvented herself once again.
In South Korea Youn Sun Nah is a national celebrity. She first made her name in a musical, with a role in the Korean version of the successful German show "Line 1" – and that led to the blossoming of her solo career. She was several-times winner at the Korean Music Awards, she was invited to sing at the G20 Summit Meeting in Seoul, and also represented her country in 2014 at the closing ceremony of the Winter Olympics in Sochi. She was Unesco Goodwill Ambassador for Korea on International Jazz Day.
She discovered French chanson early in life and that eventually led her to move to France, which has become like a second home country to her, and was also the springboard for her massive success in Europe. Her last two albums, "Same Girl" and "Lento", have amassed combined sales of 150,000. Her achievements have also received substantial recognition in France: a "Chevalier de l'ordre des Arts et des Lettres" and awards at the "Académie du Jazz". In just under five years she performed about 500 concerts all across Europe. "Same Girl" from 2010 was the album which brought about her breakthrough into Germany; she won the ECHO Award for best jazz singer and two Jazz GOLD Awards. It was only after that she had moved to Europe, and through collaborations with jazz musicians such as Ulf Wakenius and Vincent Peirani, that she immersed herself in the world of jazz and American song; songs by Nat King Cole, Tom Waits and Randy Newman became part of her repertoire.
On the new album "She Moves On", Youn Sun Nah now has concentrated her attention on jazz and folk music from North America. In order to be completely, authentically within this musical world, she recorded the album in New York, with a new band consisting of some of the most interesting and multi-faceted characters in the city. The most important of these new partners-in-crime is the producer, pianist and keyboard player Jamie Saft. He has until now mainly been known for his work with experimenters and avant-garde figures such as John Zorn, Mark Ribot, Cuong Vu and Chris Speed, but here he reveals that he is also a highly sensitive accompanist, capable of the most subtle variation. As producer he has created a warm sound for the album, redolent of the greats of the past but at the same time thoroughly contemporary.
The collection presented on "She Moves On" offers compositions by some of the greats – but never their best known or most obvious songs – plus a few traditional melodies. Among the discoveries here are Joni Mitchell's "The Dawntreader" and "She Moves On" by Paul Simon. Simon's lyrics to this song – describing Carrie Fisher – are quite wordy, but Youn Sun Nah handles them with an irresistibly light touch. There is a surprisingly joyous version of Lou Reed's "Teach the Gifted Children". Nobody can sing ballads as touchingly as Youn Sun Nah, and she draws the listener in emotionally with songs such as "No Other Name" and "Black Is The Color Of My True Love's Hair". Her three originals "Traveller", "Evening Star" and "Too Late" are a completely organic fit with the folk/jazz vibe of the album.
Just as the choice of Jamie Saft has produced felicitous results and taken the album to a very different place from what might have been expected, the other musicians in the group also prove to be inspired choices: guitarist Marc Ribot is on five tracks, with the unmistakable sound and musical personality that he has also brought in the past to the work of artists such as Tom Waits, Elvis Costello and Laurie Anderson. Drummer Dan Rieser brought his tasteful, pared-back sound to the phenomenally successful 2002 album from Norah Jones, "Come Away With Me". He and the bassist on the album, Brad Jones, are musically on home territory just about anywhere from avant-garde to pop, and in their playing both of them give frequent and fascinating flashes of their broad stylistic palette.
Untouched by fads and fashions, Youn Sun Nah's voice is instantly recognizable, charismatically urgent and infinitely adaptable. Whether in songs from musicals, chanson, world music, folk or jazz, Youn Sun Nah's ability to affect the souls of listeners directly, and her ability to tell compelling stories have made her an international phenomenon.
She's still the same girl – moving on.