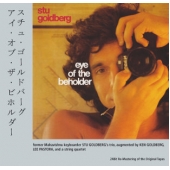 Goldberg Stu
Eye Of The Beholder
Label: Promising Music / Mps
Genre: Jazz / Avant Garde
Availability
CD Digi / Cardboard €11.99

In Stock
On his last studio recording for MPS the West Coast piano player paints a rich texture with a cooking jazz trio, string quartet, woodwind and percussion. A mix of cinematic quality between fusion, jazz, blues and classical which Goldberg himself calls one of the favourite albums of his career.
If you listened to the Mahavishnu Orchestra in the 1970s you are familiar with his keyboard wizardry. If you're a fan of the Indiana Jones movies you have heard his piano. You might also have come across his works by watching US documentary films or TV series. Indeed, this man has "more than one iron in the fire", as the saying goes. Since the 1980s Stu Goldberg is a highly requested soundtrack composer and session musician for Jerry Goldsmith, Lalo Schifrin and the like. Yet in recent years he began recording as a jazz musician again, and by doing so, resumed his early career which was exceptional in every way.
Having caused a sensation at the Monterey Jazz Festival, when he was merely 17, Goldberg became a member of John McLaughlins Mahavishnu Orchestra, toured the world and played with Al Di Meola, Freddie Hubbard, Wayne Shorter, Billy Cobham, Jack Bruce and Alphonse Mouzon from the 1970s on. But it was the teamwork with the latter who finally set the ball rolling for Goldbergs solo career. And Joachim Ernst Berendt, of course, on who you can put the blame for many gems in the MPS vault. Since it was Berendt who produced Stu's first LP "Solos – Duos – Trios" (1978) which already revealed Goldberg's open-minded, organic and at the same time experimental philosophy, as he paired his piano and synthesizer with the guitar by one Larry Coryell and the Indian violin of L Subramaniam. Encouraged by label owner Brunner-Schwer, Goldberg created another three contributions to the MPS catalogue on his own, culminating in the album you now have in hand, which was long out-of-print and now is available on CD. It certainly ranks as the most elaborate and best thought-out work in Goldberg's solo discography.
Recorded and mixed in Hollywood in the August of 1981 "Eye Of The Beholder" holds many surprises: The title track is a rollicking opener which shows Stu in a virtuoso mood developing his solo parts in a very organic way. Teaming up is his brother Ken on sax whose recording debut we can witness here. "New Love" is a lavishly orchestrated piece with piano and strings under the lead of violinist Doug Cameron creating rich colours – it also features a tremendous bass solo by Jim Lacefield and plainly points at Goldberg's cinematic capacity. This is also the case with "Song Burst": Energetic and equally lyrical it unites a burning band with the driving pulse of drummer Dave Crigger (whom Goldberg knew through their common work in Don Ellis' band) and quartet interludes of a nearly baroque character. "Daybreak, Sunbeam" and the following "Daybreak" must be seen as a suite, revealing a wide range of influences from the romantic period of Chopin and Rachmaninoff to daring modern jazz improvisation along its course, the two Goldberg brothers often playing side by side before Stu recaptures the first part with a splendid solo. "Montreal" once again shows all the qualities of this album, displaying a fine interaction between jazz band and strings with space for solo highlights, notably Ken on flute this time, and conga player Lee Pastora adding his skills to the Latin touch of the final section.