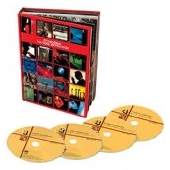 Various Artists
Cti Records: The Cool Revolution
Label: Sony
Genre: Jazz / Avant Garde
Availability
CD x4 BOX €20.99

Dispatched within 5-10 working days
Rediscover one of the most influential labels in the history of modern jazz: CTI RECORDS Remastered using the original two-track analogue tapes, this repackaged 4-CD hard back bookset celebrates the vintage years of CTI, when a distinctive style and sound were born. Each disc represents an aspect of CTI's artistic personality straight-up jazz, big hits, the Brazilian influence and cool, classic sounds. Over 5 hours of music showcase all the major artists on the CTI roster, both in solo performances and in the unforgettable collaborations that made each CTI album so distinctive.
Disc: 1
1. Sugar - Stanley Turrentine
2. Moment's Notice - Hubert Laws
3. So What - Ron Carter
4. Autumn Leaves - Chet Baker
5. Speed Ball - Stanley Turrentine with Milt Jackson
6. The Intrepid Fox - Freddie Hubbard
7. Ifrane - Randy Weston
8. Free as a Bird - Don Sebesky
9. So What? - George Benson
Disc: 2
1. Red Clay - Freddie Hubbard
2. It's Too Late - Johnny Hammond
3. Home Is Where the Hatred Is - Esther Phillips
4. We've Got A Good Thing Going - Hank Crawford
5. White Rabbit - George Benson
6. Fire And Rain - Hubert Laws
7. What a Difference a Day Makes - Esther Phillips
8. Follow Your Heart - Joe Farrell
9. Also Sprach Zarathustra - Deodato
10. Mister Magic - Grover Washington Jr.
Disc: 3
1. Stone Flower - Antonio Carlos Jobim
2. Ponteio - Astrud Gilberto with Stanley Turrentine
3. First Light - Freddie Hubbard
4. Salt Song - Stanley Turrentine
5. Pensativa - Hubert Laws
6. Tombo in 7/4 - Airto Moreira
7. Sunflower - Milt Jackson
8. Return to Forever - Airto
9. Wave - Paul Desmond
10. Carly & Carole - Deodato
11. Brazil - Antonio Carlos Jobim
Disc: 4
1. My Funny Valentine - Chet Baker & Gerry Mulligan
2. All Blues - Ron Carter
3. Song To A Seagull - Paul Desmond
4. Pavane - Hubert Laws
5. What'll I Do - Chet Baker
6. Westchester Lady - Bob James
7. A Child Is Born - Kenny Burrell
8. Take Five - George Benson
9. Concierto De Aranjuez - Jim Hall