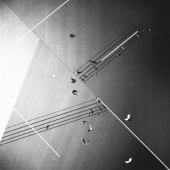 Epavlis Pavlakis
Christos Laskaris
Label: Granny
Genre: Electronica / Ambient / Experimental
Epavlis Pavlakis makes ten audio comments on ten poems of Christos Laskaris. The heartbreaking voice of a deceased poet is presented through the minimal digital sounds of a musician who met the poet through his brother. A linear vivid audio environment that captures and charges the voice. A Homage.
Epavlis Pavlakis first LP release combines a unique eye view on poetry and digital age.
Christos Laskaris (Havari Ilias, 1931 - Patra, 2008), poet, graduate of the Teaching Academy of Tripoli. He worked in the Insurance Agency of Patra's Urban Buses. His poems are published by Diagonios, Mpilieto, Gavrielides.
---
Ο Epavlis Pavlakis δημιουργεί δέκα ηχητικά σχόλια σε ισάριθμα ποιήματα του Χρίστου Λάσκαρη. H φωνή του θανόντος ποιητή παρουσιάζεται μέσα από τους μινιμαλιστικούς ψηφιακούς ήχους του μουσικού που γνώρισε τον ποιητή μέσω του αδερφού του. Ένα γραμμικό, ζωντανό ηχητικό περιβάλλον που 'αιχμαλωτίζει' και 'φορτίζει' την φωνή του ποιητή. Ένας φόρος τιμής.
Το πρώτο LP του Epavlis Pavlakis συνδυάζει με μοναδικό τρόπο, την ποίηση και την ψηφιακή εποχή.
Χρίστος Λάσκαρης ( Χάβαρι Ηλείας, 1931 - Πάτρα, 2008) . Ποιητής, απόφοιτος της παιδαγωγικής ακαδημίας Τρίπολης. Εργάστηκε στoν ασφαλιστικό φορέα αστικών λεοφωρείων Πάτρας. Τα ποιήματά του έχουν κυκλοφορήσει από τις εκδόσεις Διαγώνιος, Μπιλιέτο, Γαβριηλίδης.'
All tracks composed arranged and mixed by Epavlis Pavlakis.
Poetry, voice and recitation by Christos Laskaris.
Original cover photo by I. Apostolidis.
Artwork by Opora.
Mastered at Athens Mastering Studio
Cut at Dubplates & Mastering.
Pressed on 140g white transparent vinyl.
Comes in a PVC bag with a printed sleeve.
Limited to 300 copies.