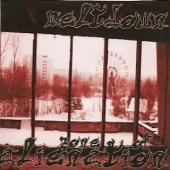 Zone Of Alienation
Meltdown
Label: Full Wave Rectifier Laboratories
Genre: Post Rock / Avant Rock
Availability
Other Formats
The main inspiration for the music of the Zone of Alienation came somewhere in the midwest of the US of A, in 2010, during a Jesus is Angry and Eyes tour. That tour started with me playing guitar and modular synth as a solo act. Thomas Tapia, drumming for Eyes on that tour, seemed really into the music, and I really liked his drumming style too, so I asked him to play with me the next day, improvising on the themes that I was playing on my own. We both really enjoyed it, and ended up playing together for the rest of the tour. On one gig, in Normal, IL, we even had Jorge Tapia, Eyes' guitarman, join us on stage as a second drummer, and all hell broke loose that night..

I really liked the idea of this instrumentation, a heavy, downtuned guitar, a modular synth and a drummer.. But it was moving further and further away from the usual Jesus is Angry experimental mood, so I decided I'd better find a new name for it. That tour eventually ended and our paths split, Thomas returned to Illinois and I returned to Sheffield, UK, from where I left almost immediately for a European tour.

Eventually, I ended up in Thessaloniki, Greece, where Stratos lives and we decided to jam a bit together.. Thus, the Zone was born..