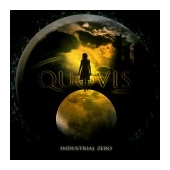 Quovis
Industrial Zero
Label: From A Tree
Genre: Electronica / Ambient / Experimental
Availability
CD Digi / Cardboard €12.99

In Stock
18th-19th century. The era known as the Industrial Revolution, was a period in which fundamental changes occurred in agriculture, textile and metal manufacture, transportation, economic policies and the social structure in England. This period is appropriately labeled "revolution," for it thoroughly destroyed the old manner of doing things. The year 1760 is generally accepted as the "eve" of the Industrial Revolution. Chimneys, bridges and factory smoke blocked out most of the light in the towns. A layer of dirty smoke often covered the streets like a blanket. This came from the factories that used steam to power their machines. The steam was made by burning coal to heat water. Burning coal produces a lot of dirty, black smoke.
The concept of Industrial Zero, covers a period between 1760 and 2020, ''from steam to oil and afterwards''. It's a tuneful journey through the greatest inventions and theories of the last centuries. This journey ends in the near future, when strange facts take place progressively, such as the oil-economical-ethical-social crisis. The concept is not covered with lyrics but speeches, that are easily audible in the songs.
All music was composed and arranged by Dimitris Stasinos
Acoustic & Electric pianos by Dimitris Stasinos
Soprano Sax by Efthimis Tsakiris
Electric guitar by Nick Stasinos
Mixed by Tasos Papalias
Mastered by Tasos Karadedos
at Stereotype Studio, Thessaloniki.