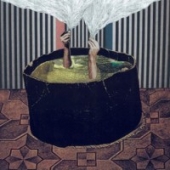 Phantom Band
The Wants
Label: Chemikal Underground
Genre: Post Rock / Avant Rock
Availability
CD €16.99

Dispatched within 5-10 working days
• Follow up album to 2009's critically adored debut, 'Checkmate Savage'.
• Recorded at Chem19 Studios with award winning producer Paul Savage (Mogwai, Twilight Sad, Franz Ferdinand et al).
• Musical inspirations include David Lynch and John Carpenter soundtracks, German kosmische music, Tom Waits, digidub rhythms, R&B harmonies, doo- wop and rock'n'roll.
• Lyrical inspiration found in lycanthropy, vampires, doppelgangers and the Salem witch trials.
• The release of 'The Wants' is hugely anticipated and is likely to consolidate the band's reputation as one of the most musically adventurous acts working today.