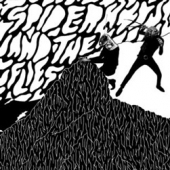 Spider And The Flies
Something Clockwork This Way Comes
Label: Mute
Genre: Electronica / Ambient / Experimental
Availability
MCD €4.99 Nice Price

In Stock
'Something Clockwork This Way Comes' features seven tracks including their sold out and long deleted double A Sided debut single 'Metallurge' and an extended version of 'Desmond Leslie'.



Produced by Spider and The Flies and Barry 7 of Add N To (X), the new album is released on CD and limited edition 12" vinyl and sees The Horrors' Spider Webb and Tom Furse explore the sounds of an outer space of their own creation.



Taking inspiration from fifty years of innovative electronic music from Delia Derbyshire and the BBC Radiophonic Workshop to the sound of Juan Atkins' Detroit, and recorded using only analog instruments, Spider and The Flies have delivered a truly exciting and original record.