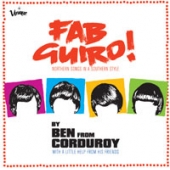 Ben From Corduroy
Fab Guiro!
Label: Unique
Genre: Freestyle / Nu Jazz / Funk / Afro
Availability
CD €16.99

Dispatched within 1-4 working days
´Fab Guiro!´ has been made with the help and contribution by these fine musicians and bands: Lead-singer Mayka Edyole from The Sweet Vandals (Madrid), the vibes-player Alexander Maczewski & percussionist Kay Vester from the Duesseldorf based jazz-outfit Lex Eazy & The Mambo Club – who have re-recorded classic songs from the Unique catalogue already for our 100th release as mambo versions. Further features include the horn section with Martin Garcia & Josue Ciclon Garcia which have played on the most recent albums of Glen Anthony Henry & The Sweet Vandals (Madrid), Corduroy guitar player Scott Addison (London) and Duesseldorfs Matt Flores as co-producer and mixing engineer who produces state of the art electronic music for compost black label and combination to name just a few.