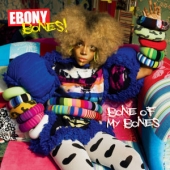 Ebony Bones
Bone Of My Bones
Label: Sunday Best
Genre: Rock / Pop
· Ebony Bones self-released two 7" singles in 2008, and both promptly sold
out. Radio 1's Zane Lowe heralded them both as his Single Of The
Week and The Hottest Record In The World Today.
· Her spectacular live show, complete with costumes and incredible visuals,
has toured with The Slits and played at Glastonbury and even a Barack
Obama party in New York, in addition to tearing up SxSW this year.
· The much-anticipated 'Bone Of My Bones' melds post-punk with ethnic
rhythms, huge electro sounds and pop hooks, and was produced by Chris
Zane (VV Brown, Little Boots and Ladyhawke, amongst others).