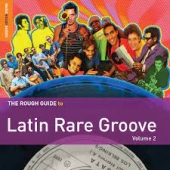 Various Artists
Rough Guide To Latin Rare Groove Vol. 2
Label: World Music Network
Genre: Freestyle / Nu Jazz / Funk / Afro
This Rough Guide offers another treasure chest of golden nuggets from the Latin Rare Groove mother lode. Glittering delights range from Ray Pérez's Venezuelan combo Los Kenya to the retro-funk sounds of The New Mastersounds and a previously unreleased gem by NYC salsa orchestra Conjunto Alayon featuring a young Jimmy Bosch.


On The Rough Guide To Latin Rare Groove (Vol. 2), we've gone deeper to unearth even more treats for collectors of obscure, funky, tropical dance music. While taking the 'rare groove' genre too seriously can get you accused of snobbery or being a nerd, there is something to be said for the thrill of discovery and sharing something new, especially if it's old and made of vinyl (even better if it was never originally released to begin with).

The gems here represent the multi-national and multi-genre approach within the Latin rare groove culture itself. Purposefully starting off with The New Mastersounds, a proper British rare groove funk group that could as easily be from 1968 as from today, we travel deeper to an obscure hard-driving Latin soul number from Nuyorican duo Ricardo Ray and Bobby Cruz, released in 1966 on the cult label Fonseca. This overlooked classic in the making is followed by a slew of South American scorchers from the 1960s and early 1970s from Venezuela's Los Kenya and Nelson Y Sus Estrellas, plus Papo Y Su Combo, Carlos Hayre and Los Belking's from Peru. Next up, some contemporary Afro-Venezuelan grooves in a surf-psych jungle style from Amsterdam's Conjunto Papa Upa, succeeded by New York's Peliroja, channeling Eddie Palmieri's Harlem River Drive (the ultimate Latin rare groove album). This is followed by the real discovery here, Conjunto Alayon, an obscure 1970s NYC salsa orchestra that sadly never made it – or even finished its debut album. Now, 35 years later, it is finally seeing the light of day. The fiery trombone solo is by a young Jimmy Bosch. We finish out the collection with five current artists channeling old school aesthetics, best known among them being Quantic.

There is a long tradition of 'super-fandom' and intrepid scholarly connoisseurship in Latin music, same as with any other genre. Especially in the world of old-school salsa, boogaloo and Latin funk, fanatic aficionados from Cali, Colombia, to Ponce, Puerto Rico – in Spanish referred to as melómanos or salsómanos – have been trying to out-stump each other with their precious, esoteric finds for decades. The current astronomical prices paid at record fairs and online auctions attest to the rabid collecting tastes of these über-fans who often hail from as far away as Japan or Sweden.