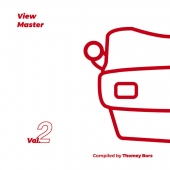 Various Artists
View Master Vol. 2 - Compiled By Thomey Bors
Label: Logarithm
Genre: Electronica / Ambient / Experimental
Artwork by:
John Trifonopoulos, Angie Papadopoulou,
Eleftheria Zanidaki, Argiris Marmaridis

Screen Printing By:
Radicall (Stelios Samaras - Argiris Marmaridis)

The Compilation View Master vol2, marks our 20th release
and at the same time the celebration of our 15 years of existence.

The compilation is curated by Thomey Bors.
Big ups to all the artists that took part in it.