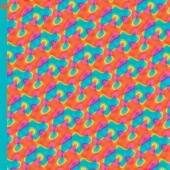 Ausgang 256
Essai 256
Label: Crunchy Frog
Genre: Electronica / Ambient / Experimental
Minutia: noun, first quality of Ausgang 256, young Parisian trio able to go back up to 256 times to find the right synthesizer tinkering before getting satisfaction. After 255 attempts and at least ten times more sessions of turning knobs, it is thus at the 256 try that these three boys reached the sonic nirvana. Such a feeling of contentment, that it needed to give its name to their first album : Essai 256.

On this first release, entirely self-produced, Ausgang 256 joyfully offers us pop songs that would have melted in the experimental junk, like sugar in water. Indeed, the music of these three young dreamy electronicians slips between our fingers but flows gently into us. It brings us a sound hydration of prime quality in a delicate refreshing wave which oscillates between desire of escapism ("Home, Not", "Waves", "Fuga 256") and tenderness for the everyday life ("Coffee & Jelly", "SMILE", "Song For Trish and James"). It is as if our ears, assaulted all day long by bad waves and unpleasant news, were stroked in the same way as our eardrums: our brain doesn't understand everything, because Ausgang 256 relies on impressionistic suggestion, but our lulled body says thank you.

We enter into their music like into a house where all the doors and windows are wide open: by wherever we want. Weird and yet welcoming, the music of these three boys who have been nourished by Sonic Boom makes us lose our sonic landmarks to better lull us. Despite the melancholic layer, we feel fine: each sound, delicately sculpted, is good for us: synthetic blips blops here (tinkered on Korg MS-20, Moog Opus 3 and Octatrack for the nerds that it excites to know), electric-acoustic vibrations on the six-string there, between two whispered vocals and fragmented micro percussions: all these notes want to be our friends.

Carefully, patiently, meticulously assembled in a small room in the 18th arrondissement in Paris, the music of these devoted disciples of the Japanese magician Cornelius works like a pointillist painting. From too close, it is completely abstract. From too far away, you lose the flavor and craftsmanship. But at the right distance, all the details come together as if by magic, and the apparent deconstruction becomes a kind landscape, which creates an environment where it is good to stroll, dream, laze, in short : to live.