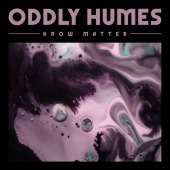 Oddly Humes
Know Matter
Label: Melting Records
Genre: Freestyle / Nu Jazz / Funk / Afro
The mysteries of science and the art of music merge in the twisted mind of Oddly Humes, the Florida based beat-smith delivering his latest album, Know Matter. There are few details known about this enigmatic producer, but it is rumored he went into hiding after a catastrophic lab accident that left his features disfigured and his mind obsessed with digging for beats. After a few years of seclusion in an underground bunker — his activities discernible through the sounds of clanking metal and crackling vinyl records — Oddly Humes has emerged with ten cuts of Nobel-worthy sample-fusing experiments. As Dr. Frankenstein once shouted, "It's alive!"

With Know Matter's tracks each named after a chemical or mineral substance, the alchemy here is strong. Oddly Humes quotes the golden era of '90s trip-hop while adding a cinematic flair that wouldn't be out of place in a Tarantino romp or an Argento giallo. "Cobalt," opening the LP, sets the tone with slide guitars, looping bass, spectral melodies in the distance, and a dusty drum kit driving the atmosphere. "Sulfur" is likewise incendiary, blasting speakers with a crucial beat as a symphony of textures greet unsuspecting eardrums. There's also "Titanium," a strange rocker of a track that can't help but summon some serious Twin Peaks vibes. Oddly, indeed.

For those looking for off-kilter cuts or if you're just into supporting cutting-edge scientific research in the rhythmic sciences — look no further than Know Matter. Oddly Humes continues to mix compounds alongside his mixed beats, and his discoveries will advance the craft of downtempo music into the future.