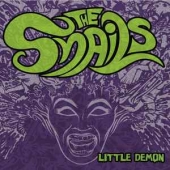 Snails
Little Demon
Label: Getthatbeat
Genre: Rock / Pop
The Snails are a Garage Psych band hailing from Athens Greece. Being one of the most underrated greek bands, the Athenians Garage Punkers strike again, this time with an all-killer (no filler) brand new 12'' mini-LP!!

''Little Demon'' consists of six amazing own compositions, blending in harmony, pure Garage Rock and Psychedelia with raw Punk Rock. Is difficult to single out any song as all of them are true masterpieces.
The opening track ''Who's Gonna Help You'' is a cool 3-minute fuzzed number, while ''Get Away'', ''Explosions In My Mind'' & ''Lady'' are solid songs that will drive you wild to the world of The Snails & sure thing is that will stick on your mind for a long time!!!

''You Don't Love Anyone'' probably is the finest moment of ''Little Demon'' with excellent guitar work, reminding you of some of the extraordinary Aussie anthems of the '80s!! Finally''Little Demon'' is a great dark-psychedelic-space number that presents ''echoes of time, echoes in your mind"!!! Not forget to mention the great & right on target production!!!
It has been released as a digital download and in a 12" Vinyl format. If you fancy the true Garage Rock sound then let this piece of wax conquer your ears & Little Demon conquers your soul!!!