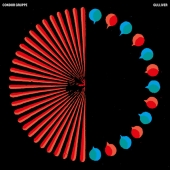 Condor Gruppe
Gulliver
Label: Sdban Ultra
Genre: Post Rock / Avant Rock
'Gulliver', the latest Condor Gruppe album, is a nod to yet another spiritual journey in the band's ever-evolving saga. The Antwerp-based nine-piece ensemble take you on a hypnotic trip, paying tribute to obscure Italian 70s film soundtracks, krautrock and psychedelic grooves. Fuse the melancholy of Pink Floyd, the heroism of Ennio Morricone and the world grooves of GOAT and you get an idea of what Condor Gruppe is.

Always looking to push musical boundaries, Condor Gruppe rely on the adventurous use of their instruments and their intriguing musical patter. Melancholic, exotic, surreal, the band's sound is enriched by instruments including the handpan, Jew's harp, darbouka and tanpura. Diverse sounds, rhythms and melodies build, exciting the listener whilst always remaining familiar. From the thunderous, spacious prog rock sounds of 'What Could Have Been', to the loose, laidback grooves of the mystical 'Farid' and groovy 'Rhymes On Our Mind', 'Gulliver' is a soundtrack for visits to far-flung places and a mesmerizing trip through the band's own record shelves.

Condor Gruppe released their debut album 'Latituds del Cavall' in 2014 with nine exotica fuelled songs that echo the sound of an intoxicated ride through the desert. This was followed up in 2016 with 'FROG BOG - A Tribute to Moondog' – an adaptation of the work of the legendary composer and outsider. Containing six Moondog interpertations, trumpet player Dirk Timmermans, saxophonist Matti Willems and baritone saxophonist Hanne De Backer joined the five original members of Condor Gruppe, with the results a spectacular mix between Moondog's jazzy compositions and Condor Gruppe's dreamy instrumental sound.

Second album proper 'Interplanetary Travels' (2018) – a nostalgic, melancholic soundtrack – saw the introduction of the Anoushka Shankar-trained Nicolas Mortelmans on sitar. The title hinting at Sun Ra is no coincidence. Condor Gruppe recorded 8 songs that give you the creepy feel of a horror scene, the heroism of the best film scores and the hypnotizing grooves of jungle tribes.

At this year's Ghent Film Festival, Condor Gruppe performed a live version of the score for the dark, hypnotic, surreal, erotic vampire film 'Daughters of Darkness' (1971), directed by Belgian cult director Harry Kümel. The score was originally recorded by François de Roubaix, a self-taught musician and jazz enthusiast, and he composed almost a hundred soundtracks, mostly for French films. In 1976, he won a César for best soundtrack with his work on 'Le Vieux Fusil' – awarded posthumously as de Roubaix had passed away just the year before. De Roubaix has always been a great source of inspiration for Condor Gruppe, so they were only too happy to sink their teeth into his scintillating score.