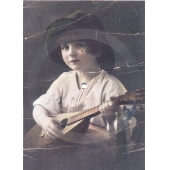 Coil
March Of Time ( Heliostasion Mix )
Label: Fex
Genre: Industrial / Post Industrial / Experimental
Availability
Flexi Postcard €44.99

Out of Stock
It is a collectible postcard with a special engraving so that it can be played as an analog music record of short duration. The postcard features Coil audio material and is entitled "March of Time" in the exclusive Heliostasion edit by Danny Hyde, one of the surviving members of the legendary band, at the time of recording their "Backwards" album.

The postcard will be released in 250 numbered copies in December 2022. The edition is curated by the Experimental Music Scene of FEX, chrysallida.gr, which after years of obsession with postcards launched its flexi audio series "Ηλιοστάσιον" last year featuring the Current 93 track "Soft As The Sun".

The visual part of the circulation is based on an authentic postcard from the archive of the Folklore & Historical Museum of Xanthi which was sent on 07/02/1918 by a member of the Kouyoumtzoglou family from Philippoupolis to Xanthi.