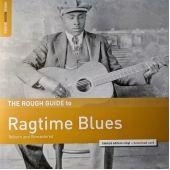 Various Artists
The Rough Guide To Ragtime Blues
Label: World Music Network
Genre: 60s / 70s Rock / Pop / Progressive / Kraut
Availability
LP + MP3 COUPON €15.99

In Stock
Ragtime had a profound influence on many early blues performers who strived to reproduce its complicated piano sounds on the guitar. With its faster rhythm and good-time feel, this danceable style was performed with mesmerizing skill by blues greats such as Blind Blake, Reverend Gary Davis and Blind Boy Fuller.

Made famous by the legendary Scott Joplin, ragtime developed in African-American communities throughout the southern part of the Midwest during the last decade of the nineteenth century and had a profound influence on many early blues performers. Combining the structure of marches with African-American songs and dances such as the cakewalk, ragtime's syncopated or 'ragged' rhythm was initially performed as dance music for the seedier side of society in areas where bars, dancehalls and brothels were located. Many blues guitarists attempted to reproduce the complicated piano sounds, as its faster rhythm created a more upbeat and lively feel, far removed from the typical intensity of early country blues. So, when ragtime went out of favour as jazz claimed the public's imagination, it had already entered the folk consciousness through the playing of blues greats such as Blind Blake, Reverend Gary Davis and Blind Boy Fuller.

Blind Blake was the first commercially successful performer of this style, whose intricate fingerstyle technique and diverse repertoire ranging from upbeat rags and hokum tunes to slow blues numbers influenced all who followed, including the likes of Blind Boy Fuller and Reverend Gary Davis, and modern-day guitarists Ry Cooder, John Fahey and Jorma Kaukonen.

Many of the featured artists hailed from the Eastern States where the influence of ragtime was instrumental in creating the unique and much loved 'Piedmont' guitar style. Typically, the Piedmont guitarist would create an alternating rhythmic bass accompaniment by moving the thumb of the picking hand between the different bass strings of the guitar, whilst one or more fingers of the same hand would pick out the melody on the higher strings. Essentially this approach gives the impression that the guitar is being played like a piano.

Little is known about many of these artists, none more so than Willie Walker who only ever recorded two sides in 1930, with 'South Carolina Rag' being one of the absolute masterpieces of ragtime guitar playing. Other highlights to listen out for include 'Ragtime Millionaire' by the barbershop owner William Moore which harks back to the glory years of ragtime as well as the cakewalk inspired 'Money Never Runs Out' by Gus Cannon's Jug Stompers.