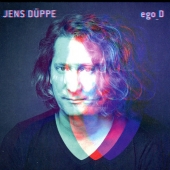 Duppe Jens
Ego_d
Label: Enja
Genre: Jazz / Avant Garde
Others write memoirs. Jens Düppe, musician, drummer, composer, band leader and curator of interdisciplinary exciEng projects has recorded 30 years of his musical work in his language, the language music, as a solo CD ego_D.
Jens Düppe, for whom, similar to the US-American composer Michael Gordon, life's moOo "music without borders" stands, always wanted to document his (musical) encounters in his own composiEons. He has incorporated much of this into his numerous projects. He unites contemporary music and jazz of different styles in an enEty that follows all of life's different paths and everything that goes with that. ego_D and Jens Düppe are more than a program, here music history of the future is wriOen, a drum set that moves from its sideman role into the center of creaEon. And yes, there are two dialogues of the soloist on the CD. On the one hand with the young Cologne house music producer and rapper Jabul, who as a "naive American speaker" interprets Düppe's poem "THE DRUM" in a fresh and dynamic way.
And on the other hand with the soul jazz singer Jocelyn B. Smith, who comes from New York. She worked together with Jens Düppe on the vocal elaboraEon of Düppe's song "1000 Stars", which ulEmately resulted in a rousing polyphony and a remarkable and unique solo - two solos in dialogue, that is. UlEmately, COVID gave Jens Düppe the chance to create and turn this "life's work of life" into a CD. The project has already had live performances. For example, in COVID Eme Jens Düppe played live for the transatlanEc streaming portal DREAMSTAGE, in the Karlsruhe Kulturtempel, the King Georg Jazzclub in Cologne and the flagship jazz club Tonne in Dresden.
On the album ego_D Jens Düppe takes us on a musical journey that includes 10 staEons:
THE DRUM The very first piece is a dedicaEon by Jens Düppe to the BEAT, to the drums and ulEmately to life, which always keeps moving through its permanently changing rhythm. BIRDSZ
In BIRDSZ the feeling of freedom dominates. Feeling free, playing free.
DANCE 1 Always touched by "minimal music", Jens Düppe composed this minimalisEc work for keys and bass drum only.
DANCE 2 With this danceable piece in 11/8 Eme, Jens Düppe's journey to the Black Sea with his soulmate Bulgarian musician friend Dimitar Bodurov, which has been recurring for 15 years finds its expression. There Düppe got to know the roots of Bulgarian folk music, studied them and deepened them on concert tours with great arEsts like Theodosii Spassov.
MEDITATION
Jens Düppe, musician, jazz musician, author, who is also fond of the lyric genre, pays homage to it in a melancholy composiEon based on and embedding Paul Verlaine's poem "Chanson D'Automne". Read in French, by an Italian and a German, neither of whom speaks French as a naEve language, the composiEon takes on something hiddenly magical. KORA Jens Düppe acts like a musical ambassador without borders, whose numerous trips with the Goethe InsEtute to all conEnents, including Africa, have lei musical traces. It was here that Düppe was inspired to create KORA by the sound of the African harp of the same name.
SILENT WAVE gives an insight into the flow of composer Jens Düppe. A piece that seems
simple at first. But it reflects the complexity and dynamics of the creaEve process, about the constant changing of the hands' funcEons (which hand plays mainly drums, which hand plays mainly piano).

With 1000 STARS Düppe meets his unforgoOen childhood. Curiosity has never lei him.
Influenced by Düppe's early interest in "the stars" and looking upward - even as a 12-year old, Düppe got his hands on books by Hoimar von Di.urth, including the inspiraEonal work
for Düppe, "Children of the Universe."

COME WITH ME stands for life. A song that wants to evolve, from simple to complex. A song that, full of opEmism, allows its energy and joie de vivre to spread ever stronger in a great crescendo.
A MILLION MILES FROM HOME
And finally Düppe puts another piece influenced by his love for minimal music and greats like Steve Reich, Aphax Twin and Arvo Pärt as a tribute at the end.