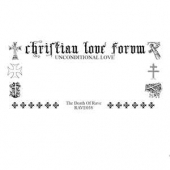 Christian Love Forum
Unconditional Love
Label: Death Of Rave
Genre: Electronica / Ambient / Experimental
Christian Love Forum debut on The Death of Rave with an unmissable suite of microtonal, new jack swing jams and apocryphal synth prayers discovered in a Thessaloniki thrift shop - think Teddy Riley x James Ferraro meets Gurdjieff and Mark Snow during an eclipse.

Enriching the mystery of Christian Love Forum after their cult album 'Naked Light' surfaced on the amazing Live Adult Entertainment in late '21, this bonus tape of 12 crudely mesmerising votives grant a compelling insight to the trio's mystic working practice in-the-moment. During the months since it manifested, the tape has become our most played and cherished listen in recent memory, conjuring an holistically immersive vibe for the eons with minimalist ingredients of loops and live keyboards maximised with the spirit of God to enduring effect. Ancient-futurist, darkly romantic, and utterly hypnotic, it simply slays every time.

Revolving keybordists Nicolas, Kiro, and Scott, very little is known about the band aside to their Christian names, but their music says all you need to know. Between the pendulous swang and searing organ vamps of its opener, thru its astonishing centrepiece of face freezing microtonal improv 'Extra 6' drawing parallels with Gurdjieff and Litüüs, to the pair of extended panoramic synth jams on the B-side, CLF blur the sacred and profane with a proper grasp of intrigue, and stuff, that's all too rare in the contemporary sphere.

Spirit-tested at Manchester's new book, booze and vinyl portal, Peste, to awed response every time, CLF's syncretised blend of devotional music with nods to late '80s/early '90s thriller soundtracks, and cybernoir game music, is just untouchable and ineffably effective. Saints, sinners, heathens and heretics will all find something to lock into and send eyes rolling in the back of their skull.
Comes in a clear case.