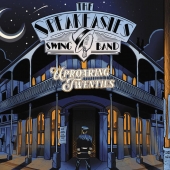 Speakeasies Swing Band
Uproaring Twenties
Label: Green Cookie
Genre: Freestyle / Nu Jazz / Funk / Afro
The Speakeasies Swing Band! are a Swing band born back in 2010 in Thessaloniki, Greece.

Since then, they have been touring all around the world and shared the stage with famous artists such as Parov Stelar, Ray Collins, Cherry Poppin Daddies, Hillbilly Moon Explosion. Among all, they've performed to special events, such as Hollywood's star Jessica Chastain's beautiful wedding.

They took part in many festivals, such as the Diga Diga Doo Festival in Bangkok, Thailand, Royal Jazz Fest in Bahrain, Hep Cat's Holiday in Great Britain, Copenhagen Lindy Exchange in Denmark, Bansko International Jazz Festival in Bulgaria, Summer Jamboree in Italy and many more.