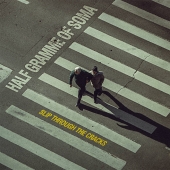 Half Gramme Of Soma
Slip Through The Cracks
Label: Sound Of Liberation Records
Genre: Stoner / Post Metal / Industrial Rock
Availability
Other Formats
Written & performed by Half Gramme of Soma
Synth tracks by O.M.X.
Produced by H.G.o.S. and George Leodis.
Engineered and mixed by George Leodis.
Recorded on November 2020 through February 2021, at Crème Chalet studio in Athens.
Drums recorded by Nikos Chalkousis at Lychnopolis studio.
Mastering by Brad Boatright at Audiosiege, Portland OR
Cover design and layout by Choco
Cover photo shot by Alex Antoniadis
Special thanks to: Our families and friends, Fuzzink, the Smoking

Gatefold cover.