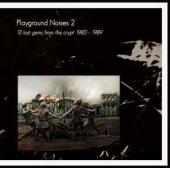 Various Artists
Playground Noises 2 (13 Lost Gems From The Crypt 1980 - 1989)
Label: Geheimnis
Genre: 80s Wave / Rock / Pop / Punk
Availability
Other Formats
Η Geheimnis Music Productions βρίσκεται στην ευχάριστη θέση να σας παρουσιάσει τη συνέχεια της επιτυχημένης συλλογής "Playground Noises" που είχε κυκλοφορήσει το 2018. Ύστερα από έρυενα ενός χρόνου, η συλλογή "Playground Noises 2" αποτελείται από 13 δυσεύρετα κομμάτια από την 80's post punk/new wave/synth σκηνή από μπάντες και καλλιτέχνες από την Νέα Ζηλανδία, Σουηδία, Γερμανία, Γαλλία, Ηνωμένο Βασίλειο, Ολλανδία, Η.Π.Α. και την πρώην Γιουγκοσλαβία.

The Body Electric formed out in 1982 by Alan Jansson and Andy Drey, but during their early rehearsals they were joined by actor Garry Smith on vocals. Seppuku come from the city of Eksjö in southern Sweden. In the time of the recording of their 7'' single, the band was consisting of Doc Ron (vocals/synths), Raz (bass synth), Togga Papp (synths) and Conda (synth drums). Romantične Boje were formed in 1983. The founding members were : Zoran Cvetković (Cvele) synths and vocals, Goran Veljković (Gax) synths and Goran Radenković (Radenko) drum machine. ExKurs : In the late 70's, Michael Hirsch and Pierangelo Maset founded the bands "Wankers" and "Modern Entertainment", which became later ExKurs in 1980. Passing Strangers were formed by Ian Davies and Hugh Barnett (known as "Flash") in 1981 and were soon joined by Steve Long. Davies played guitar and wrote the songs. Flash was very interested in fledgling computers and programming. Long was already a very accomplished keyboard player. After a while, drummer Stuart Marsh was added and also guitarist, bassist and keyboard player Steve Deakin. Bukowski Band were formed in Belgrade, Yugoslavia (Serbia now), active from 1985 to 1986. Members of the band were Zoran Petrovic - vocals, Gorjan Krstic - synths and keyboards, Branko Jakovljevic - rhythm and drum machines and Vojin Dan - bass. All The Madmen were formed in 1980 by Mike Richardson and Neale Down/Potts. They soon recruited the singer Chris Bailey, while Richard Smith (aka Cavalier) joined in at the same time. Da Klute was a Dutch band which was active from 1983 to 1987. They consisted of : Jan Wijnen - vocals and drums, Con Wijnen - bass and vocals, Jan Bergman - guitar and vocals, Cees van Gerven - keys, Pieter van de Langenberg - drums (1984-1985) and Ferry Zonneveld - drums (1986-1987). The Ideal Husbands occurred around 1980 in Stratford-upon-Avon, England. The band was formed by John Hunt (guitar), plus teenagers Sophie Wellstood (piano), Wayne Morris (drums) and David Laycock (bass). Fantasia started out in 1986 as a duo consisting of keyboards and bass guitar. Ford Elliott on keyboards and Driss Hodson on bass and vocals. Class Action : Brad Evans put together a band consisting of Natalie Pace on synth bass, Mike Shaw on percussion/drum sequencing and Billy on guitar. Brad sang lead, programmed sequencing, and played synthesizers. Corps Diplomatique were founded in Marseille (France) in 1984 by Olivier Aubin and Nicolas Pélissier. Soon they were joined by Patrick Loubet and Marie Eve Bensussan. They were active until 1988 doing concerts, radio and TV appearances. Spiral Visions were formed by Andy Beaumont (keyboards and flute) in 1980. With the arrival of Chip on drums in early 1981, the band's name changed to "Spiral Visions". Pete Jackson (bass) joined in May 1981. In March 1982 Russ Park (vocals) joined the band, followed by Dave Gilbert (guitar) in May 1982.

Η συλλογή κυκλοφορεί την 29η Σεπτεμβρίου, σε 553 αριθμημένες στο χέρι κόπιες, 277 σε μαύρο και 276 σε χρυσό βινύλιο. Remastering και audio restoration έγινε στο 216 Pro-Studio από τον Λάκη Χαλκιόπουλο (ex Headleaders). Κάθε κόπια περιλαμβάνει ένθετο με στοιχεία γιά τις μπάντες, φωτογραφίες και στίχους.