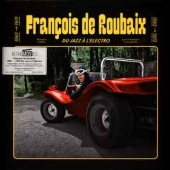 Roubaix Francois De
Du Jazz A L' Electro 1965-1975
Label: Music On Vinyl
Genre: Soundtrack
Availability
LP 180gr Audiophile €32.99

In Stock
Composer François de Roubaix was born in 1939. He didn't receive any formal musical education, but he became interested in jazz from the age of 15. His professional musical career only spanned ten years, from 1965-1975. During that period he composed for commercials, TV series, shorts, and about 30 feature-length films.

The most striking aspect of François de Roubaix's music is its versatility: on one hand, it's his ability to create simple, memorable tunes; on another hand, it's his bolder experiments with different timbres and recording techniques. He freely combined folkloric and electronic instruments, embracing the advent of the first synthesizers and rhythm boxes. Being a multi-instrumentalist gave him a high degree of artistic freedom, as he spent long hours at his home studio overdubbing various parts of his scores until he would reach the desired result.

Du Jazz À L'Electro 1965-1975 is a brand new compilation album consisting of compositions by Francois de Roubaix. It includes previously unreleased and hard to find compositions from tv-series like Les Survivants and Tarif De Nuit. This compilation also includes compositions for commercials of Cointreau, Muratti and Fiat Coupé. Du Jazz À L'Electro 1965-1975 is available as a limited edition of 1500 individually numbered copies on solid yellow coloured vinyl, housed in a gatefold sleeve with liner notes and background stories about the compositions.