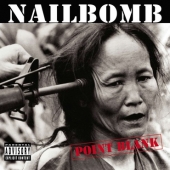 Nailbomb
Point Blank
Label: Music On Vinyl
Genre: Stoner / Post Metal / Industrial Rock
Availability
LP 180gr Audiophile €28.99

In Stock
Nailbomb was a side project by Sepultura's Max Cavalera and producer/engineer Alex Newport in the mid-1990s. Point Blank is their only studio album, originally released in 1994 by Roadrunner Records. The album combines the thrash-metal fury of Sepultura with the robotic industrial clangor of Fudge Tunnel - a big hit in the festival scene at the time.

Nearly the entire Sepultura lineup is present on the guest list - both Andreas Kisser and Igor Cavalera are credited. Also Dino Cazares of Fear Factory and Ritchie Bujnowski from Wicked Death are featured on the album. The first track "Wasting Away", appears in the 1995 film To Die For. "Exploitation" is a cover originally by the English crust punk band Doom.

Point Blank is available as a limited edition of 3000 individually numbered copies on 'Blade Bullet' coloured vinyl.