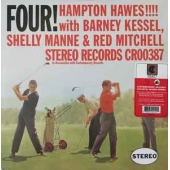 Hawes Hampton With Kessel Barney / Manne Shelly / Mitchell Red
Four!
Label: Craft Recordings
Genre: Jazz / Avant Garde
Released as part of the Acoustic Sounds Series celebrating 70 years of Contemporary Records, Four! highlights the timeless talents of Hampton Hawes (Piano), Barney Kessel (Guitar), Shelly Manne (Drums) and Red Mitchell (Bass). First released in 1958 and recorded by legendary engineer Roy DuNann, this new edition features remastered audio from the original tapes.