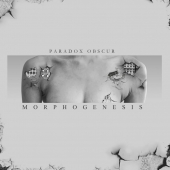 Paradox Obscur
Morphogenesis
Label: Metropolis
Genre: Electro / Electro-Rock
Availability
LP €23.99

Dispatched within 5-10 working days
Paradox Obscur are an Athens, Greece-based post-punk synthwave duo comprised of Kriistal Ann and Toxic Razor. They have built a devoted worldwide following over the course of four albums since debuting in 2014 and signed to Metropolis Records to issue the explosive 'Singles & Rarities' collection in early 2021. The brand new 'Morphogenesis' marks their first new full-length release proper for the label.

The duo explain that 'Morphogenesis' "represents a gateway into the virtual world of illusion, one that modern man has appropriated and irrevocably strives to keep as an extension of his physical being that is lost in a dream of constructed contentedness." A diverse range of electronic genres are represented in its songs, with shards of minimal techno, house and trance heard alongside synthwave and industrial sounds.

One of the few electronic ensembles to record their albums in real time, the duo capture the essence and magic of the moment without resorting to sequencing and editing software. They also take it a step further, utilising vintage synthesizers and drum machines to create their captivating raw sound.

Limited silver vinyl.