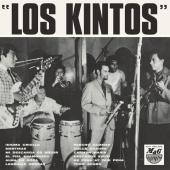 Los Kintos
Los Kintos
Label: Vampisoul
Genre: World Music
Availability
LP €24.99

Dispatched within 5-10 working days
1970 album that marked a milestone in the history of Peruvian tropical music comprising an outstanding repertoire of Cuban rhythms as a response to the trends of the moment: boogaloo and Colombian cumbia.

Guitarist Pancho Acosta lead the band and Kiko Fuentes delivered the vocals across some juicy descargas and guarachas.

First time vinyl reissue.

In the late sixties, a generation of young Peruvian musicians, who were fans of tropical sounds, chose Cuban rhythms over the onslaught of boogaloo and Colombian cumbia. This musical movement attracted a legion of young followers, mostly from popular districts of Lima.

In 1969, percussionist Domingo Guzmán Villanueva was commissioned by the MAG record label to get together a group to revive Cuban musical tradition. To lead the project he recruited, Francisco "Pancho" Acosta, founder and guitarist of the Company Quinto. The new group was baptized Los Kintos, in a nod to their desire to carry on playing in the Compay Quinto style. The link between the two groups appears on this first album, as the group's name is written in two different ways: Los Kintos, on the front cover; and Los Quintos, on the back.

Recordings began in 1969 and included the stunning 'Descarga Kinto', Richie Ray and Bobby Cruz's original 'Pancho Cristal' —renamed here 'Pancho Guzmán— and Cuban classics from the repertoire of the historic Trio Matamoros like 'Lágrimas Negras' or 'Mentiras', all with lead vocals by Kiko Fuentes.

The success of their concerts would take them on tours across the country, always recognized as outstanding figures of Cuban music in Peru.

This reissue brings back an album that marked a milestone in the history of Peruvian tropical music and revives the fame of the group's legendary live performances.