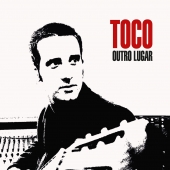 Toco
Outro Lugar
Label: Schema
Genre: Freestyle / Nu Jazz / Funk / Afro
Edizioni Ishtar and Schema Records proudly celebrate the 15th anniversary of one of their most successful releases and artists (more than 30 million streams and 300 thousand monthly listeners on Spotify) with the first ever vinyl edition of Toco's Outro Lugar. Produced by S-Tone Inc., this record includes fan-favourite tracks "Outro Lugar", "Samba Noir

" and most of all "Guarapiranga", which was chosen for the soundtrack of "Silver Linings Playbook", a film that awarded Jennifer Lawrence an Academy Award prize as best actress in a leading role in 2013. The strings at the beginning of the title-track have also been sampled by PinkPantheress for her song "Nineteen", out of her latest album "To Hell With It".

Outro Lugar hasn't aged a bit during all these years, for various reasons; first of all it benefits from the outstanding contribution of bossa nova pioneer and inspiration source Roberto Menescal, who played guitar in every track. Most of the album was recorded in Rio De Janeiro at Menescal's studio, with the participation of some of the best 'carioca' musicians, especially double-bass player Adriano Giffoni and pianist Adriano Souza. All these elements gave the album exactly the taste requested by the artist and the producer: inspired from the past yet, through thorough attention, aimed at a sound at the same time fresh and modern, slightly electronic, filled with grooves perfectly blending into acoustic instruments. The second part of the recording was carried out in Milan, with some of the best musicians in the Milanese jazz scene.

The album also sees the contribution of Rosalia De Souza, singing in several tracks and standing out in "Bom Motivo" especially. French chanteuse Coralie Clément appears in "Contradição", her own piece here re-interpreted by Toco.

Outro Lugar is an album for any kinds of Brazilian music lovers that showed the world what Toco was capable of: a refined and cultured musician, a gifted performer of a warm and smooth voice able to awaken the emotions of the most sensitive listeners.