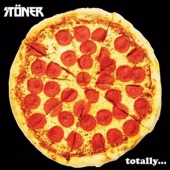 Stoner
Totally ...
Label: Heavy Psych Sounds
Genre: Stoner / Post Metal / Industrial Rock
Availability
Other Formats
This is Epic! Half of the original members of Kyuss: the Lord of Coolness Brant Bjork himself, and the mighty Rex Everything AKA Nick Oliveri former of Queens of The Stoneage are ready to deliver you the album of the year 2022 !!! The Dukes of the Desert are back with an incredible sophomore album: STÖNER – Totally … is the perfect mix of Desert Swing, Stoner Rock, Desert Rock, and Low Punk all at once! 8 brand new tracks which will blow your mind, recorded by Yosef Sunborn who followed Brant in the last decade for his solo recordings. Mellow guitars, funky stoner rhythms, blusy atmospheres, tipical Nick's punky sounds..the album flies away in one single listen and makes you want to play it again immediately. Cover art is Hilarious, as this band wants to be. Nothing too serious, they wanna play and have fun, that's the recipe the Dukes are bringing us after 30 years of experience !!