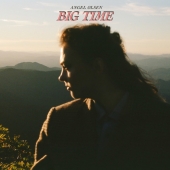 Olsen Angel
Big Time
Label: Dead Oceans
Genre: Rock / Pop
Availability
LP x2 €33.99

Dispatched within 5-10 working days
Other Formats
Fresh grief, like fresh love, has a way of sharpening our vision and bringing on painful clarifications. No matter how temporary we know these states to be, the vulnerability and transformation they demand can overpower the strongest among us.

Then there are the rare, fertile moments when both occur, when mourning and limerence heighten, complicate and explain each other; the songs that comprise Angel Olsen's Big Time were forged in such a whiplash.

"I can't say that I'm sorry / when I don't feel so wrong anymore," the record begins, her voice softer and more open than ever, as if she's singing through a hard won smile. "All the Good Times", a twangy banger with nods to JJ Cale, starts the album on a triumphant and bright note. The title song, "Big Time", follows and continues the warm optimism. "Guess I had to be losin' to get here on time," she sings, a fearless love song co-written with her partner.

Big Time is an album about the expansive power of new love, but this brightness and optimism is tempered by a profound and layered sense of loss. During Olsen's process of coming to terms with her queerness and confronting the traumas that had been keeping her from fully accepting herself, she felt it was time to come out to her parents, a hurdle she'd been avoiding for some time.

"Some experiences just make you feel as though you're five years old, no matter how wise or adult you think you are," she writes of that time. After that tearful but relieving conversation, she celebrated with her partner, their friends, oysters, and wine. "Finally, at the ripe age of 34, I was free to be me."

Three days later, her father died; his funeral became the occasion for Olsen to introduce her partner to her family. Though she was fearful their presence as a newly out queer couple would be "an additional symbol of loss," those days went peacefully, yet only two weeks later Olsen got the call that her mother was in the ER. Hospice came soon after, and a second funeral came quickly on the heels of the first. Another trip back to St. Louis, another grief to face, another deepening and intensification of this still-new love.The shards of this grief—the shortening of her chance to finally be seen more fully by her parents—are scattered throughout the album. "It's a hard time again," she sings on "This is How It Works", pushing against the irrevocability of death, "Tell me a story that will make me forget." "Go Home", which begins with an almost numbed calm, slowly builds up to a wailing that comes up straight from the ground: "I want to go home, go back to small things. I don't belong here. Nobody knows me."

"You can't plan grief, you can't organize it or schedule it or know how you'll feel when it comes. It just happens, and when it does sometimes it's not what you thought it would be." Three weeks after her mother's funeral she was in the studio, recording this incredibly wise and tender new album.

Loss has long been a subject of Olsen's elegiac songs, but few can write elegies with quite the reckless energy as she. If that bursting-at-the-seams, running downhill energy has come to seem intractable to her work, this album proves Olsen is now writing from a more rooted place of clarity. She's working with an elastic, expansive mastery of her voice—both sonically and artistically. These are songs not just about transformational mourning, but of finding freedom and joy in the privations as they come.

Playful bits of Tammy Wynette and Kitty Wells are here, too, but so are the complex orchestrations of her genre-bending 2019 record, All Mirrors. While that record was full of dramatic shifts and twists, here the surprises come in their simplicity—a slow swell of strings, instrumentation that cycles like a storm, or sparkling horns in a light-flooded break-up ballad.

While the spritely nature of her last EP, Aisles, may have signaled Olsen's turn deeper into the electronic direction of her last All Mirrors, there's hardly a synth in sight here. Jonathan Wilson, served as co-producer and also mixed the tracks, while Drew Erickson played piano, organ, and scored the string arrangements. Emily Elhaj, Olsen's longtime bandmate, was a consistent collaborator as well, on the bass throughout.

"And I can't fit into the past that you're used to, I refuse to," she sings as a wraithlike piano scaffolds her hopeful voice on "Ghost On". "Forget the old dreams," she rejoices on "Go Home", "I got a new thing." Darkness inherently suggests depth, but it takes a much wiser writer to find meaning and complexity in the luminous place that Big Time occupies. "Chasing the Sun" ends the record in a smiling, romantic place, a verdant crescendo rising as she pines: "Write a postcard to you / when you're in the other room/ I'm just writing to say that I can't find my clothes / If you're lookin for something to do."

The burning of her earliest work is still here, of course, but this time she's "freed from the longing / for one moment to last" and she's ready to "walk through the fires / of all earthly desires."

—Catherine Lacey Oaxaca, February 2022

Pink vinyl.