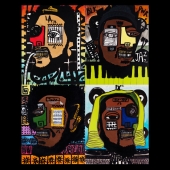 Dinner Party
Dinner Party
Label: Empire
Genre: Freestyle / Nu Jazz / Funk / Afro
Availability
LP €21.99

Dispatched within 5-10 working days
Dinner Party is the super-group of Terrace Martin, Robert Glasper, 9th Wonder, & Kamasi Washington, a collection of some of Hip-Hop's finest current producers and contributors. With 14 GRAMMY Nominations between the group, Dinner Party utilizes the strengths of each musician seamlessly, blending their styles to create something soulful for these trying times. At just over 20 minutes, the album leaves the listener with just enough to satisfy them but yearn for more.

The group has a combined 3 GRAMMY Wins and 14 Nominations

Terrace Martin is a major contributor on Kendrick Lamar's albums, Good Kid, M.A.A.D. City & To Pimp A Butterfly

The album debuted at number one on the US Billboard Top Contemporary Jazz Albums, at number two on the Top Jazz Albums and at number fifty-five on the Top Album Sales.