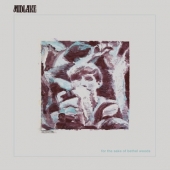 Midlake
For The Sake Of Bethel Woods
Label: Bella Union
Genre: Rock / Pop
Availability
CD Digi / Cardboard €18.99

Dispatched within 5-10 working days
Other Formats
Loss and hope, isolation and communion, the cessation and renewal of purpose. Timeless and salient, these themes echo throughout the fifth album from Midlake, their first since Antiphon in 2013. Produced to layered, loving perfection by John Congleton, For the Sake of Bethel Woods is an album of immersive warmth and mystery from a band of ardent seekers, one of our generation's finest: a band once feared lost themselves by fans, perhaps, but here revivified with freshness and constancy of intent.

A desire to commune with the past and connect with present, lived experience asserts itself from the opening of the album. A song that resonates with Midlake's return and, perhaps, our lockdown era, 'Commune' can also be read in terms of a deeper urge to re-engage with sometimes neglected ideals and beliefs. 'Bethel Woods' sustains and develops that reconnection, evoking the steadfast and contemplative urgency of The Trials of Van Occupanther to back a lyric steeped in yearning for a paradisal time and place of hope and optimism. Soaring guitars and atmospheric noise effects extend a sonic scope further developed by 'Glistening,' where arpeggios dance like light glancing off a lake. In just three songs, Midlake reintroduce themselves and reach out into fresh territory with a richly intuitive dynamism, honouring their past as a seedbed of possibility.

The psychedelic space-rock and sticky guitars of 'Exile' shift the album to another plane, promising rich returns live, before 'Feast of Carrion' splices apocalyptic imagery with lustrous harmonies: darkness and light, held in rarefied balance. A deeply personal turn follows on 'Noble,' a song of tender innocence named after drummer McKenzie Smith's infant son, born with a rare brain disorder called Semi-Lobar Holoprosencephaly. Pulido, who has been friends with McKenzie since they were 16 years old, kept McKenzie in mind for the lyrics. "I wrote the song from his perspective in a way, his expression to me of how he had been feeling towards his son. And then among the lament of his condition, it's also embracing this child who has only joy. Noble doesn't know that he has a condition, he just loves life. And smiles, and is so innocent, and perfect in so many ways."

Elsewhere, the prog-enhanced funk-rock of 'Gone' seeks to find hope in relationships that seem fragile. The ELO-esque 'Meanwhile…' draws inspiration from what happened when Midlake paused after Antiphon, developing universal resonance as a song about the beautiful growths that can emerge from the cracks and gaps between things. 'Dawning' draws on 1970s soft-rock stylings for another song searching for hope, its keyboard line reaching out towards an uncertain future while everything seems to collapse around it; 'The End' reflects on the difficulties of partings. Finally, 'Of Desire' meditates on letting go of what you can't control and attending to what you can during uncertain times. "It's about finding peace in that humbling," says Pulido. "Sometimes it's hard to have a large effect, so it's just about shrinking that and saying, these are the things I can do and the rest is to be seen, to be known."

Midlake began re-attending to their patch in 2019, with the bulk of the album's work undertaken when the world shut down in 2020. The lockdown turned out to be helpful, in terms of offering an escape from grim reality and focusing the band's energies – essential for an outfit whose members (Pulido, Chandler, Smith, Eric Nichelson and Joey McClellan) had all pursued alternative ventures following Antiphon. Also on-hand was new collaborator John Congleton, who produced, engineered and mixed the album, marking Midlake's first record with an outside producer. "I can't say enough just how much his influence brought our music to another sonic place than we would have," says Pulido. "I don't want to record without a producer again. Part of that is the health of the band, because as you get older you get more opinionated and you kind of need that person who says, 'No, it's going to be this way!' It's hard to do that with your friends."

The result is a powerful, warming expression of resolve and renewal for Midlake, opening up new futures for the band and honouring their storied history. Formed in the small town of Denton, with roots in the University of North Texas College of Music, Midlake delivered an auspicious debut with 2004's Bamnan and Slivercork. For the follow-up, they looked further afield and deeper within to deliver 2006's wondrous The Trials of Van Occupanther, a modern classic pitched between 1871, 1971 and somewhere out of time: between Henry David Thoreau and Neil Young's After the Gold Rush, between 1970s Laurel Canyon thinking and a longing for something more mysterious.

In reuniting, the bandmates were adamant that Midlake needed their absolute focus. The result is an album of tremendously engaged thematic and sonic reach with a warm, wise sense of intimacy at its heart: an album to break bread and commune with, honour the past and travel onwards with. In 'Bethel Woods', Pulido sings of gathering seeds. On For the Sake of Bethel Woods, those seeds are lovingly nurtured, taking rich and spectacular bloom.