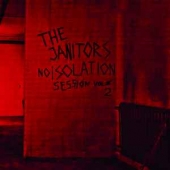 Janitors
Noisolation Session Vol. 2
Label: Bad Afro
Genre: Rock / Pop
This wasn't our choice to be made. We really didn't want to do this record. But this pest that fell upon us kept pushing. So after Volume 1, we started recording again. But without the confinement of the regulations we put up for the first volume. We allowed ourselves to think beyond just one night of creativity and this is what we came up with.

These songs really reflect us at this moment. Not sure if that means anything to anyone except us. But it's important to us. This is a testimony of what we left behind and what we hope for the future. And no matter how much we try to scream through our instruments, everything gets captured in the delay. In the rhythm of the decay. In the reminiscence of the reverb. We are trapped in this sonic world.. All we said is trapped in the echo. And that echo is for you to find.

As always we leave you with a raised long finger to the right wing fascist death machine. Take care and remember, you need to know how to howl to give yourself an escape route.

Colored vinyl.