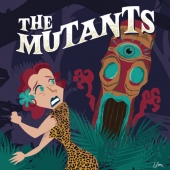 Mutants
Deathrace 3000
Label: Green Cookie
Genre: Rock / Pop
Availability
Other Formats
20th year anniversary. Exactly after 20 years finally a vinyl version (green colored LP) of their Deathrace 3000 CD (12/03/2002) is here with new artwork by Henrique San.

Funky garage. Afrogaragemambo. Psychedelic voodoo groove. Oh dear... The Mutants are a tough little bastard to exactly pin down what they're all about. But with music this cool, funky and with an all-out party on!-attitude you really shouldn't even care.
The Mutants was originally started as an instrumental garage rock band in 1998. As The Mutants slowly began incorporating more rhythmic influences in their music, the line-up was fortified with a percussionist and a saxophone player. Some say the Finnish music scene would never be the same...
The band released their first 7", "Le Mutant", in the summer of 2001 on a Finnish label Legal Records after which the band has released a bunch of singles and appeared on compilations worldwide. Tracks from the singles and some compilation appearances were put on one CD by the Greek label Green Cookie Records in 2002.