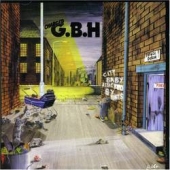 G. B. H.
City Baby Attacked By Rats
Label: Radiation
Genre: 80s Wave / Rock / Pop / Punk
Street punk pioneers Charged G.B.H. formed in Birmingham in l978, the name referencing original bassist Sean McCarthy's trial for grievous bodily harm. The in-your-face hardcore of EP Leather, Bristles, Studs And Acne, paved the way for super-charged debut LP, City Baby Attacked By Rats, which hit the number two position on the British indie charts on release in l982, as well as the mainstream top 20, despite being released by tiny independent, Clay Records. With a touch of Motorhead and Sabbath beneath their straight-up hardcore, City Baby is where the legend begins, capturing G.B.H. at their bloodiest.

Includes double sided insert and poster.