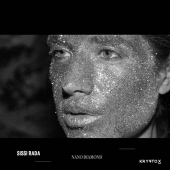 Sissi Rada
Nanodiamond
Label: Kryptox
Genre: Electronica / Ambient / Experimental
Sissi Rada is a wonderfully ambiguous personality. One of the best harpists for contemporary classical music in Europe and at same time producer of beautiful abstract electronica songs.

Her album "Nanodiamond" comes out on new Berlin label Kryptox . With guest vocals by Lena Platonos. Co-production by Brian Eno on 81948 (2000 OM69) and Andi Toma of Mouse on Mars on Maps and Blueblack Tomb. A futuristic musical work that combines the sweet melancholy of the classical harp with subtle electronic soundscapes and Sissi Rada's magic voice. You could imagine it in a Stanley Kubrick movie.

Sissi Rada was born in Athens, studied in Amsterdam and Berlin (Universität der Künste) and since then is living in Berlin. Here she is an active part of the new experimental music scene. She is member of the David August Ensemble and makes music for art performances and modern theater.

But apart from the electronic and neo-jazz experiments in the Berlin underground, she also enjoys a substantial career as an established classical harpist. She is a member of Teodor Currentzis' musicaAEterna orchestra and a frequent collaborator of the Berlin Philharmonic, the Deutsche Oper Berlin and other ensembles from the classical world.
Now she recorded this album. It became a melancholic travel though a universe of romantic harp atmospheres, fragile melodies, subtle impressionistic vibes - based on Lo-Fi electronic sounds, noisy textures, a raw sound design and sometimes almost robotic beat constructions. A melancholic voice and the subtle harmonical and melodic structures, that sometimes catch you immediately, and will sometimes only be understood after a 2nd or 3rd listen, add that magic touch.
It is music that you probably never heard before.