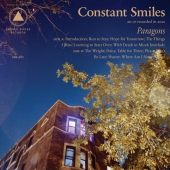 Constant Smiles
Paragons
Label: Sacred Bones
Genre: Rock / Pop
Availability
LP + MP3 COUPON €23.99

Dispatched within 5-10 working days
Typically, a band's big indie label debut doesn't come 15 albums into its career, but with • Constant Smiles' Paragons, here we are. Primary songwriter and sole "constant" member Ben Jones—who considers Constant Smiles a collective—sees its impressive output as a way to document the group's evolution.

Since its live debut as a noise duo on Ben's home of Martha's Vineyard in 2009, Constant Smiles has grown to include contributions from 50 other members, all of whom have personal connections to the group's extended family. And while the collective has indulged an array of musical whims along the way - including Ben's penchant for penning a new set's worth of material for each live performance - Constant Smiles' sound has tightened up considerably over their past couple of albums, in large part as a result of Ben's working relationship with Mike Mackey, who has become his main creative partner. This increased focus manifests on Paragons in the band's most cohesive batch of songs to date, ranging from shimmering psych-pop excursions to bittersweet, piano and string-accented strummers, and an execution that feels like a massive step forward for the band.

Through its recent forays into dream pop and shoegaze (Control) and synth-pop (John Waters), Constant Smiles has learned how to incorporate its experimental inclinations more fluidly into the mix. Artists like Yo La Tengo, and the more recent Rat Columns, are good touchstones for Constant Smiles' musical approach - tethering to an indie-pop core while perennially mining genres, always finding new ways to intrigue listeners and pursue a unique vision. Paragons was produced and engineered by Ben Greenberg in the last two weeks of December 2020 at Gary's Electric, with additional recording done by Ben Jones at his home studio, The Void, and his Aunt Leanne's house.

The album was mixed at Circular Ruin Studio and mastered by Josh Bonati. The band on Paragons consists of Jai Berger (who performed "Introduction"), Spike Currier (bass and synth), Matthew Addison (drums), Emma Conley (violin), Nicky Wetherell (cello), Adam Lipsky (piano), and Ben Greenberg (guitar and Mellotron). Chris Liberato

Vineyard grape vinyl.