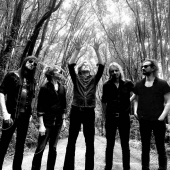 Perkins Tex And The Fat Rubber Band
Tex Perkins And The Fat Rubber Band
Label: Beast
Genre: Rock / Pop
The latest thrilling incarnation of master rock'n'roll storyteller Tex Perkins and the Fat Rubber Band began with a Link Wray record.
Perkins and his respected musician, songwriter, producer and bandmate Matt Walker share a mutual admiration of the American electric guitar innovator, whose iconic power chords in his signature 50s rock'n'roll instrumentals, had a profound influence on the evolution of rock guitar.
The pair have enjoyed countless musical conversations over the decade while hanging out backstage and on the road with Perkins' award-winning The Man In Black - The Johnny Cash Story, with Walker playing guitar in the Tennessee Four band for the theatrical production.
When Perkins enthused about his partner finding him a rare vinyl copy of Link Wray's Beans and Fatback album, recorded in 1971, Walker's response initiated a flurry of creative endeavour which would ultimately result in the formation of the Fat Rubber Band.
"There's a couple of albums he recorded in a chicken shack on his brother Vernon's farm, known as the Three Track Shack recordings - one was a self-titled album and the follow-up called Beans and Fatback, which is a little more rare.
"My partner Kristyna knew I was a fan of that record and she's an ebay ninja and she found a vinyl copy. After I immediately hugged and thanked her for it, I took a picture of it and sent it to Matt Walker. And the fateful words came back: 'Awesome, let's make an album like that.' And that was it. We were on!"
Throughout his four-decade career as a captivating performer, compelling songwriter and dexterous vocalist, Perkins has sought collaborators who both shared his passion for music and challenged his creativity.
From his first band Tex Deadly and the Dum Dums, through the fertile tension of Beasts of Bourbon and chart-slaying The Cruel Sea, his musical bromances with Tex, Don and Charlie and TnT side hustle with Tim Rogers, and myriad bands - Thug, Dark Horses, The Band of Gold, The Ape and yes, the Ladyboyz - Perkins extraordinary adaptability has allowed him to explore and push the boundaries of traditional music forms from hard rock and heavy noise to country folk balladry and blues grooves. All with his unmistakable baritone and sly sense of humour.
But the Fat Rubber Band was clearly destined, with Perkins and Walker quickly trading songs for the project like a song-writing tennis match perpetually swinging back to deuce.
Walker offered the debut album's opening track, the wide-screen drama of Pay The Devil's Due; Perkins responded with the plaintive blues of My Philosophy. Walker replied with the album's fuzz driven debut single Danger Has Been Kind and Perkins countered with the glacially-paced, intimate Poor Simple Minded Fool.