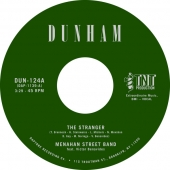 Menahan Street Band Feat. Benavides Victor
The Stranger / Black Velvet
Label: Daptone
Genre: Freestyle / Nu Jazz / Funk / Afro
The Menahan Street Band are back! This time with Los Yesterdays frontman, Victor Benavides. "Black Velvet" the moody, atmospheric instrumental ballad on the flip garnered the attention of Victor and
his long-time collaborator/WC soul luminary, Mike Noriega, inspiring the pair to craft "The Stranger'' - a pleading tale of anguish and heartbreak, elevating the track to vertiginous soulful heights.

Between Mike's pen, Victor's voice and MSB's otherworldly ability to craft instrumental bangers, you got yourself another playbox sureshot.