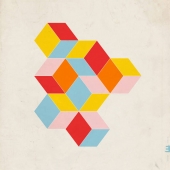 Hazama Miho
Imaginary Visions
Label: Edition Records
Genre: Jazz / Avant Garde
Availability
CD Digi / Cardboard €17.99

In Stock
Imaginary Visions is the visionary new album from Grammy-nominated conductor and composer Miho Hazama, featuring The Danish Radio Big Band – one of the leading jazz ensembles in Europe.

For Miho, this album represents a new era as part of a growing and blossoming international career.

"This is a significant milestone-moment for me. Since I have a classical music background, my brain sound has been more symphonic. However, The Danish Radio Big Band changed my perspective. They are so open and enthusiastic to new music. They can play diverse music with organic flow. I am extremely excited to work on this album"

One might expect Miho to struggle with identity: a Japanese musician working in New York and Europe, a classically trained composer with a love of jazz and modern composition, but in fact she doesn't think about identity – working with people and with music she likes is the important thing.