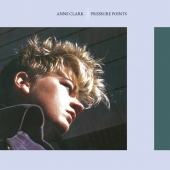 Clark Anne
Pressure Points
Label: Fda
Genre: 80s Wave / Rock / Pop / Punk
Anne Clark's fourth album was originally released in 1985, the album was produced by John Foxx of Ultravox! fame. Foxx produced eight of the nine tracks and he also wrote 5 of the 9 tracks. The album starts with the dramatic single "Heaven." Overall the pulsating synths were a perfect accompaniment for the almost strident tone that Anne Clark brought to the words of bitter disappointment as heaven moved "further and further away."

Anne Clark's poetry was about finding strength against outrage and taking what small solace she can find in this difficult world. Her accusatory and challenging tone was a valid stance during the Thatcher era and has only grown more necessary over time.

Out of print for many years, the LP is now re-released in a limited edition of 500 copies.