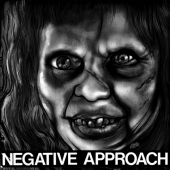 Negative Approach
10-song Ep
Label: Touch And Go
Genre: 80s Wave / Rock / Pop / Punk
Back in 1981, NEGATIVE APPROACH (along with The Meatmen and the Necros) were one of the dominant forces in the Detroit underground. The ravages of the Motor City made it a perfect breeding ground for this cacophony, later termed "hardcore." Hordes of punks packed the legendary Freezer Theatre to hear John Brannon's jagged, gruff vocals, the McCulloch brothers' (Rob and Graham) guitar/bass gnash, and OP Moore's pounding fury. The band's minimalist (read: 30 second songs) and aggressive brand of punk has inspired countless hardcore bands around the globe.

John Brannon- vocals
Rob Mcculloch- guitar
Graham Mcculloch- bass
Op Moore- drums

Green vinyl.