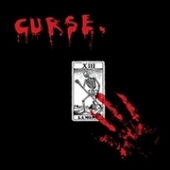 Legendary Pink Dots
Curse
Label: Metropolis
Genre: 80s Wave / Rock / Pop / Punk
Availability
LP x2 €30.99

Out of Stock
Other Formats
Curse' was intended as the Pink Dots' first official album, but a surprise request from a label to release the cassette album 'Brighter Now' on vinyl meant the proposed debut was delayed for a year. In the interim, many new songs were recorded, the line-up of the band changed and the entire complexion of the album changed drastically. It remains a favourite within the Dots' community to this day.

1983's Curse marks an intersection of styles and influences that form the Legendary Pink Dots sound: a deft balance between pop arrangements and sonic experiments, ornamented imagery, somber double-entendres, Gothic yet witty arrangements, experimentalism, and psychedelics.

Curse rises as an artistically successful turning point to the beginnings of the era of the Dots' best '80s releases

A1 Love Puppets A2 Wall Purges Night A3 Lisa's Party A4 Aarzhklahh Olgevezh/Pruumptje Kurss

B1 Waving at the Aeroplanes B2 Hiding B3 Doll's House/The Palace of Love B4 Stoned Obituary

C1 A Day at the Dreamies (Version 1) C2 Ideal Home (Version) C3 Even Now/Eventide

D1 Curse - The Sequel/An accursed Jam D2 Premonition 5

Fully remastered.
Limited edition of 500 copies on Black Vinyl.